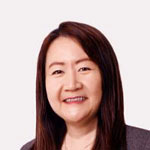 DIRECTOR



Ms. Boon Ping joined Keppel Land Limited in December 2008 as Financial Controller, overseeing the Group consolidation and reporting for the Keppel Land Group. She reported directly to the Chief Financial Officer, and she also assisted the Company Secretary on corporate secretarial matters. In December 2015, she was appointed the Chief Financial Officer of Keppel Land China Limited. In August 2018, she assumed the roleof Chief Financial Officer, Keppel Land Limited.

Prior to joining Keppel Land, she worked with two other real estate developers, Ascendas Pte Ltd and City Development Limited, where she gained experiencesin group consolidation, tax, financial and management reporting, forecasting and budgeting for large groups with regional presence. She started her career as an auditor with Ernst and Young and PricewaterhouseCoopers.

Boon Ping holds a Bachelor of Business Administration from National University of Singapore (NUS) and a Master in Financial Management from University of Manchester. She is a Chartered Accountant with the Institute of Chartered Accountants of Singapore.